Unfortunately, I have the attention span of a Cocker Spaniel, or in our house it is a crazy Lab/Singaporean street dog mix.
The upside, however, is the ability to spend time culling cool as beans stuff from that Google Machine.  Therefore today marks the first in a ongoing series of of links and things I found while surfing the web. Then again, there may not be a series,  it may the the "first" of a series of one because again please note the short attention span, Some will be travel related.  Some will be Singapore related.  Some may have no relation to anything at all, I just thought it looked freakin' awesome.
The title of this new venture of mine, of course is a direct steal from my favorite newscaster Jon Stewart on the Daily Show and of course the hash tag #eastwooding comes to mind.
But, now onto some other cool, random and clearly esoteric links for this week: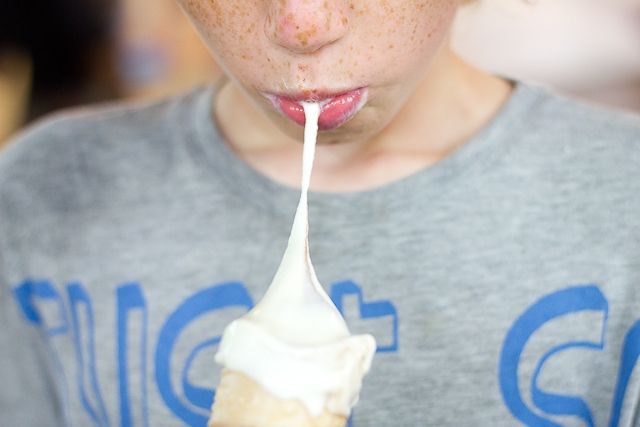 Turkish Ice Cream
ᔥ Photo and post from The WorldFoodist
I had a plan to write about the crazy stretchy ice cream in Turkey.  Theodora beat me to it and did a much better job.
A private island off the coast of Singapore.
You mean you can go there?  It has clean beaches, no TV, gourmet food and views like this? You mean it is green and not just greenwashed?  Yes, Yes, and Yes again. We are checking it out this weekend, but for now you can find more information at Nikoi Island
Take awesome pictures.
I know you want to.  Here are few tips on taking pictures of people.
5 More Tips for Photographing People
And rounding out the five (cause a fistful has five fingers right?):
My favorite part of summer back home in Oregon
Alicia Paulson is one of my go to bloggers for pictures of the everyday.  Her eye is just amazing and her connection with my home state of Oregon is as true as any native (and we Oregonians don't adopt people easily).  Here are a few of her posts over the last few weeks that make me ache to be back in Oregon.
There you have it, your first week of a "Fistful of Awesome: Groovy Finds from the Interwebs".   If you like it I may just find more cool stuff and do this again.